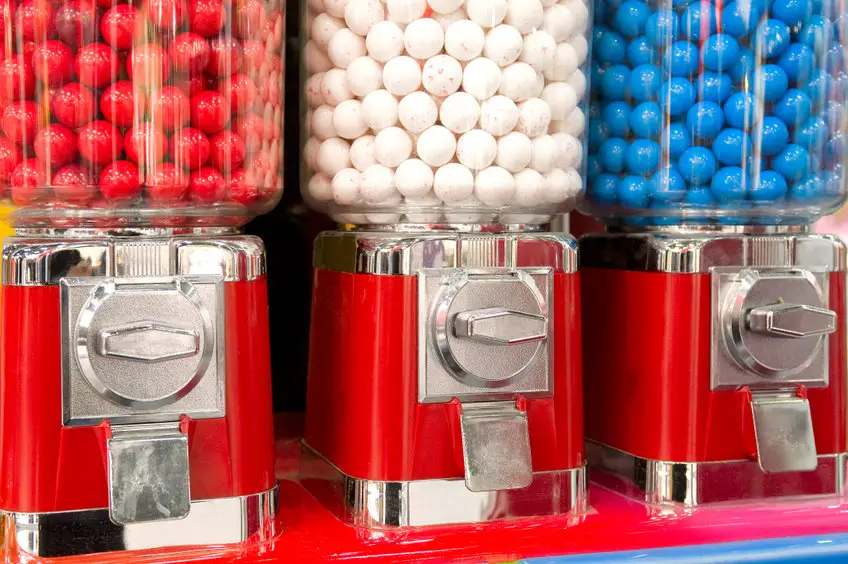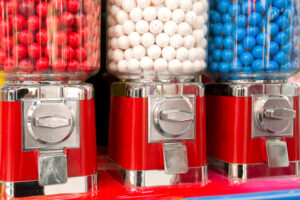 Old school coin-operated gumball machines are a totally underrated way of earning some extra income.  These glass dispensers of candy bring all of us back to a simpler time in life — when happiness was achieved through a quarter from mom's purse and a tasty treat.
Those days are long gone and now you have bills to pay, but you can achieve a different type of monetary happiness.  A coin-operated gumball machine in the right location can earn as much as $10 per day.
Gumball machines are a source of nostalgia in adults and joy in children, making them one of the top impulse buys in the world. When you're exiting a store or waiting at the barbershop, a gumball machine catches the eyes with its colorful contents and entices you with a sugary delight for the taste buds.
It might seem these coin-operated candy stands aren't a profit source, but the quarters add up. Over time, you can potentially add hundreds to thousands of dollars per year to your business' revenue!
If you're looking to add a gumball machine to your portfolio of unusual investments, check out these top coin-operated machines:
Best Coin-Operated Gumball Machines of 2022

This 48-inch-tall spiral vending machine not only gives people of all ages a sweet snack but is a fun activity. Kids will love watching their gumball spiral down the stand until it reaches the end.
The machine accepts one U.S. or Canadian quarter and can hold up to $375 in quarters. The bowl itself can hold up to 1,550 gumballs or bouncy balls. It can dispense balls up to one inch in diameter. It's not recommended to fill the bowl with acorn-shaped canisters, as they can get stuck in the spiral dispenser.
Constructed of impact-resistant fiberglass, you can set this vending machine in any part of your store without worry of it breaking. If you do have concerns, it comes with a one-year warranty for all parts and a 90-day warranty for moving parts.
The machine automatically comes in blue, but you can contact the manufacturer if you want yellow, red, or another color.

Pros
• It comes with a 90-day warranty for moving parts and a one-year warranty for all parts
• Contact manufacturer for different colors
• Accepts one U.S. or Canadian quarter
• Impact-resistant fiberglass
Cons
• Expensive
Made by the same company as the above spiral vending machine, this bright red 48-inch gumball machine has a similar dispensing mechanism that kids will love to see in your store. It can hold up to 1,550 one-inch diameter gumballs or 1,350 bouncy balls. You can also fill this bowl with one-inch diameter capsules filled with novelty toys of your choice.
This 30-pound gumball machine also has impact-resistant fiberglass, keeping you stress-free while kids and adults enjoy their tiny treats. The lifetime warranty for the coin mechanism and key-lock set ensures your machine works for years to come.
The machine you order accepts one U.S. or Canadian quarter. You can also work with the manufacturer to get a two-coin insert system installed instead.

Pros
• Accepts one U.S. or Canadian quarter or can be amended to take two coins
• Holds over 1,500 gumballs
• Can dispense capsules filled with novelty toys
• Vandal-resistant key-lock set
Cons
• Expensive
If you want to offer more than gumballs, consider a triple vending machine. It's more affordable than the spiral dispensing machines and provides more variety. This pre-configured machine has one candy dispensing wheel and two gumball dispensing wheels. It can hold up to 350 one-inch diameter gumballs.
The 8-to-10-pound capacity vending machine features an adjustable candy dispenser so that you can fit candies between 0.6 and 1.15 inches thick.
The metal and plastic material is durable, and the all-metal coin system features barrel locks on the top lid and back door. The shatterproof removable canisters are not only easy to clean but will last you a long time.
This machine accepts U.S. or Canadian 25-cent coins. It comes with two keys for each screw lock, giving you easy access to the coin box.

Pros
• Three compartments hold a variety of gumballs and candy
• Single-panel back door features a theft-proof lock and easy access for vendors
• Dispensers are adjustable to the product width
• Shatterproof, removable canisters
Cons
• It doesn't come with instructions or parts labels
This machine also has three compartments for a diverse offering, but you can put nuts, toys, and more in this one. The two candy wheels will fit nuts, small candy, or other tiny items, while the adjustable gumball wheel fits gumballs, toys, and bouncy balls. Keep a variety of items and change it up every time it's empty!
The all-metal machine features a powder coat finish and a 17-inch heavy-duty stand base. Bolts come with the purchase to lock the device down into your flooring.
Insert a U.S. or Canadian quarter to dispense the candy or treat of your choice. Safety is a guarantee with this gumball machine, as the high-security barrel locks are theft-proof but easy to access with a key.
This machine is one of the easiest to set up. There's little to no hardware required, and the bolts thread right into the flange from inside the vending machine.

Pros
• Durable metal material
• Two adjustable candy dispensers and one adjustable gumball dispenser
• Two high-security barrel locks
• 17-inch heavy-duty stand bolts into your floor
Cons
• The pre-drilled holes may not always fit the bolts
This triple-compartment vending machine holds a lot of capacity. It comes with one candy dispenser adjustable between 0.6 and 1.14 inches and two gumball dispensers that fit up to 1.25-inch gumballs.
All three canisters are removable, so you can easily clean them and change out their contents. You can adjust the wheels to dispense one item at a time or, if you have tiny pieces of candy, distribute several pieces at once.
You can choose the bright yellow color to catch the eye of passersby or the trusty black. The shatter-resistant material and barrel lock and key lid ensure the machine is durable and safe. The heavy-duty stand is one of the thickest so that it stays standing, no matter what. The dispenser's spill tray prevents candy from dropping on the floor and making a mess, too.

Pros
• Three removable canisters
• Two colors to choose from
• Heavy-duty, durable material
• Lock and key lid for ultimate safety
Cons
• The adjustable canisters can be faulty
Conclusion
Gumball machines are a simple and affordable piece that will generate revenue while you focus on the essential aspects of your business. Adults will love the nostalgia of turning the coin system and getting a sweet surprise, while kids will love watching their gumball spiraling down the dispenser before popping it into their mouths.
Whether you own a store with foot traffic or can find a good location to rent for a share of the profits, a gumball machine can be a sweet and money-making addition to your investment portfolio.