In the first week of November, three banks failed. Regulators shut down City National Bank of New Jersey, Louisa Community Bank and Resolute Bank in the period of one week.  Each of these three banks shared something in common at the time they were shut down: zero star ratings at Bauer Financial.  Banks are highly regulated and relatively easy to analyze and compare with their peers.
To see banks which are much more likely to fail, you can rely on the free ratings at BauerFinancial.com to see the banks rated zero, one, or two stars.  Or you can do some of the analysis yourself, using tools like those found at DepositAccounts.com to look at Texas ratios, deposit growth (many failed banks are shrinking deposits) and capitalization.  If you are right, and you are able to buy put options or short a publicly-traded bank that the FDIC decides to shut down, you will likely be well-rewarded.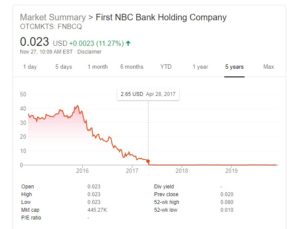 For instance, First NBC Bank Holding Company (OTCMKTS: FNBCQ) traded for almost $42 a share in November 2015.  It then worked its way down to about $7 by the end of December 2016 when it became apparent it was struggling.  On May 1, 2017, it plummeted another 90% from $2.60 to $0.20 once regulators closed the bank.  Getting the timing right down to the day would either be a result of insider information (which is illegal) or extreme good luck, but you get the point.  For over a year, someone could have made money betting against the bank.
The reality of making money on bank failures is that it is very different.  There are about 7000 FDIC-insured banks in the U.S.  At any given time, there could be 50 or more troubled or problematic banks.  Even though you can focus your efforts on this group, it is difficult to pinpoint exactly which one or ones are going to be shut down.  Regulators sometimes allow a bank to remain open for several years under a consent order and continuing to struggle.  Other times they move very fast.  Additionally, even if you feel like you have a pretty good idea about which bank or banks might be next to fail, most banks that fail are very small.  For every big flameout like First NBC Bank, IndyMac, Washington Mutual, or AmTrust, there are dozens of banks that you have never heard of like Glasgow Savings Bank, Bank of Jackson County, or Capitol City Bank & Trust.  In many cases, there shares are privately held by a few individuals or extremely thinly traded on the OTC Pink Sheets.  Put options on many of these banks don't exist, and shorting the shares is for all practical purposes impossible.
There are larger banks like IndyMac that did have a market for its stock and options on the way down.  But keep in mind that unlike being long on a stock, there are many other risks with shorting a stock, like not capping your possible downside, and spending money on put options that might become worthless.